February 6, 2017
Trump calls for 'careful' border checks after travel ban setback
President Donald Trump says he has told US border officials to check people entering America "very carefully", as his travel ban remains suspended.
He said the courts were "making the job very difficult", and should take the blame if something happened.
The federal appeals court on Saturday rejected the Trump administration's request to reinstate the ban.
The ban, affecting people from seven mainly-Muslim countries, was blocked by a federal judge on Friday.
This means that Mr Trump's directive will remain suspended and visa holders Iraq, Syria, Iran, Libya, Somalia, Sudan and Yemen will be allowed to enter the US until the full case has been heard.
The White House and two US states challenging the ban have been given a deadline of Monday to present more arguments.
Is Trump's immigration order legal?
President Trump on Sunday ramped up his criticism of Seattle Judge James Robart, who blocked the ban, and the country's judiciary.
In a series of tweets, Mr Trump said: "I have instructed Homeland Security to check people coming into our country VERY CAREFULLY."
"Just cannot believe a judge would put our country in such peril. If something happens blame him and court system. People pouring in. Bad!"
The president earlier called Judge Robart's ruling "ridiculous", described him as a "so-called judge".
---
US border checks
All persons arriving at a US port of entry are inspected by Customs and Border Protection (CBP) officers
Visitors must have valid US visas or hold 'Green Cards' that authorise them to live and work in the US permanently
Travellers under the Visa Waiver Program must apply for authorisation via ESTA (Electronic System for Travel Authorization) before their visit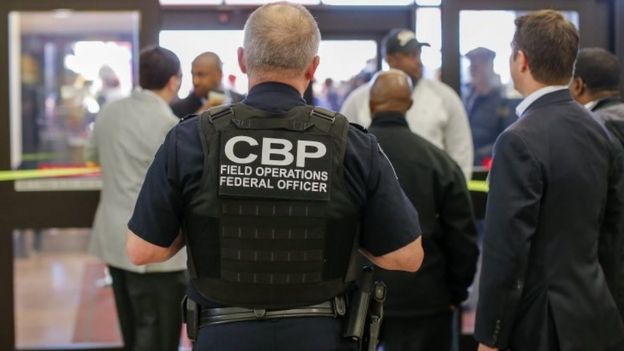 Visitors must complete declaration forms
Travellers may have their fingerprints and photos taken
CBP officers may also ask to inspect luggage or personal items
CBP uses biometric technologies to verify travellers' identities
Travellers from certain countries can use Automated Passport Control (APC)
In its appeal, the Justice Department said Judge Robart had overreached by "second guessing" the president on a national security matter.
It also argued that only the president could decide who can enter or stay in the US.
The two states challenging the restriction – Washington and Minnesota – argued that the ban was unconstitutional and denied people with valid entry documents the right to travel without due process.
It also violated freedom of religion rights by appearing to target Muslims, they said.
What happens now – BBC's Anthony Zurcher, Washington
The next step is for briefs to be filed by both sides for a formal review of Judge Robart's suspension on Monday. The Justice Department could have appealed directly to the Supreme Court on an emergency basis, but it chose not to since the appeal court is moving fairly quickly.
If the appeal court decides the stay is valid – perhaps as early as next week – then a Supreme Court appeal is almost certain.
In the meantime, everything is on hold. US immigration processes continue as they did before Mr Trump issued his executive order.
If it looks like this is bogging down, the president might eventually decide to modify the order rather than try to defend its legality. That's probably the most prudent course, but he's a stubborn man.
Source : bbc.com
Comments
comments